Startupathon - Virtual Inauguration Function
Event Date:
September 17, 2020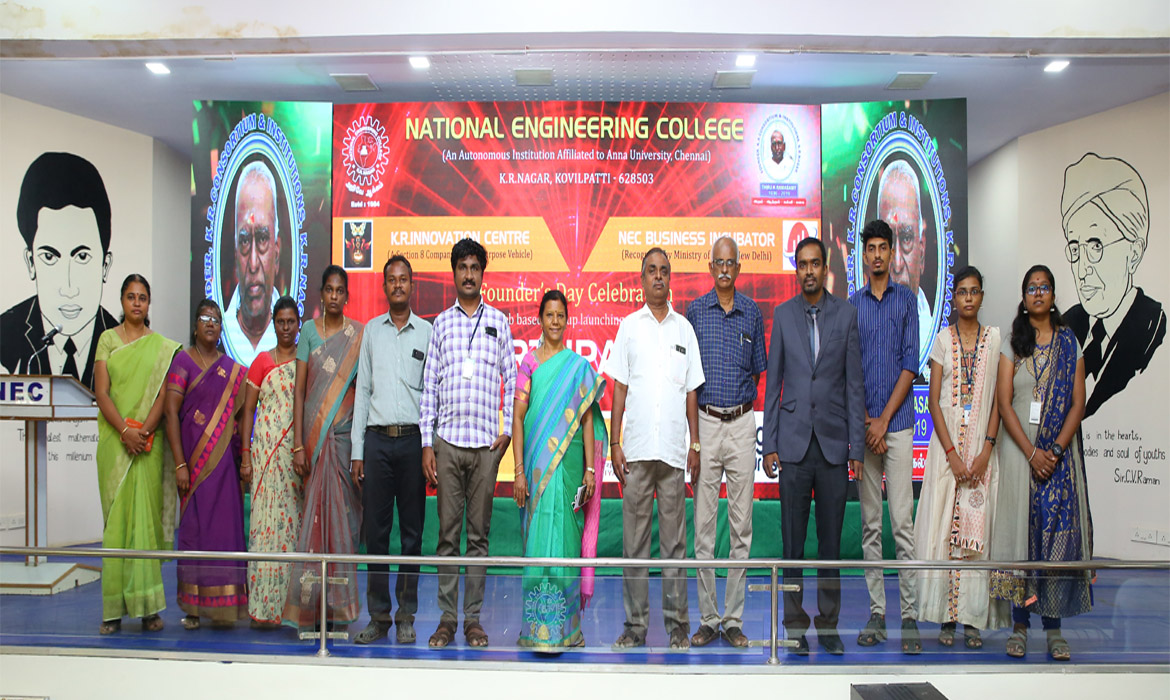 National Engineering College Business Incubator has organized inaugural function of "Startupathon", a 100 days web based startup launching and virtual incubation program on 17.09.2020 (Thursday) during the Founder's day celebration. This program is inaugurated by Thiru. K. R. Krishna Moorthi, Vice Chairman of the Institute in the august presence of Thiru. K.R. Arunachalam, Correspondent.
Dr. K. Mani Sekar, Professor & Head (Mechanical Engineering) has welcomed the gathering. Dr. G. Vinoth, Chief Technology Consultant of NEC Business Incubator and Founder, Pongu Venture, briefed about that the Institute management is committed to play a pivotal role in championing and implementing National Innovation and Startup Policy (NISP) formulated by Ministry of Education in the Institute as that matter to the growth of southern regions in Tamilnadu and local economy. Also he mentioned that NEC Business Incubator is approved by Ministry of MSME, New Delhi.
Dr. S. Shanmugavel, the Director in his speech stated that this mega startup virtual Incubation program is aimed to support the student community, faculty fraternity, alumnae and aspiring entrepreneurs technically and financially to establish a web application based startup company as per the NISP. Also he stated that the institution has alloted a budget of Rs. 10 lakhs to support 10 startup companies with a grant of about Rs.1 lakh each.
Dr. K. Kalidasa Murugavel, the Principal of the Institution has highlighted that National Engineering College has strong ecosystems such as Entrepreneurship Development Cell, New Generation Innovation and Entrepreneurship Development Centre, NEC Business Incubator and K.R. Innovation Centre for promoting innovation, product development and entrepreneurial activities among the student. He also mentioned that with the support of the college management, state-of-the-art infrastructure the college has been ranked as Top 25 among the private institutions in India in Atal Ranking on Institution's Innovation Achievement (ARIIA) 2020.
Mr. Ramachandran Gopalakrishnan, Director, Keiretsu Forum, Mumbai, Mr. R.Senthil Kumar, Senior Manager & Regional Head – NASSCOM, RTN.G.Senthil Kumar, Chairman Rotatry Vocational Services and Mr.Kannan Rasappan, Founder & CEO BANFICO were the special guests of the program. Mr. Ramachandran Gopalakrishnan, highlighted that Startupathon program can rebounce, reboot, and relaunch Innovation and Incubation programs by the Institute during this pandemic time post lockdown. Mr. R.Senthil Kumar, said that during the unprecedented times, this kind of virtual incubation program provides a way to the innovators, mentors, evangelists and investors can explore the opportunities to new normal. RTN.G.Senthil Kumar said that this program will support the startup ecosystem by collating substantial insights, advise and knowledge from all stakeholders. Mr.Kannan Rasappan shared his experience in becoming a successful entrepreneur and also expressed how to overcome the challenges faced by the startups.
The inaugural program is conducted through virtual mode using zoom meeting, you tube live streaming for students, alumnae and entreprenuers and direct contact mode for faculty of the college. Nearly 170 online participants and 200 offline participants have attended this inaugural function. More than 25 innovators with the great mix of entrepreneurs as we well as the student, alumane and faculty community have participated in this program and pitched their innovative ideas. This startupathon program is a 14-week virtual incubation program which will lead to birth of at least 10 new startups at the end of 100 days.