NECSES - 2019 - Startup Entrepreneurship Summit
Event Date:
September 21 - 22, 2019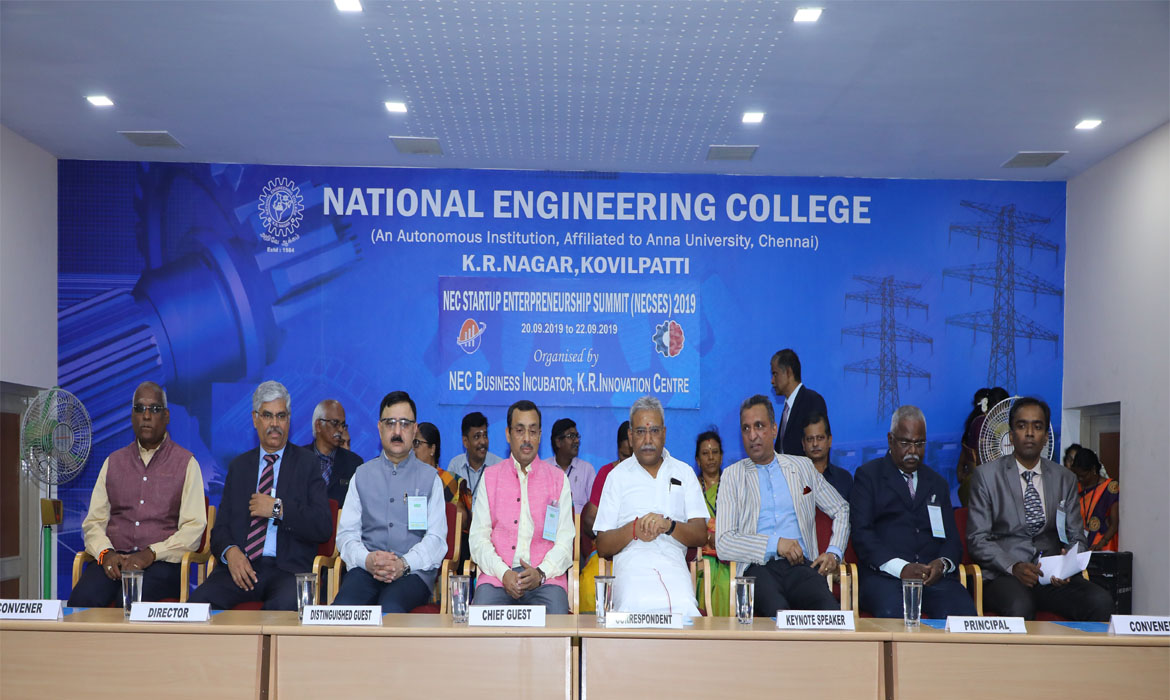 NEC Startup Entrepreneurship Summit (NECSES) 2019, a National level summit has been organized by NEC Business Incubator ,K.R. Innovation Centre, National Engineering College, Kovilpatti from 20.09.2019 (Friday) to 22.09.2019 (Sunday) supported by MHRDs Innovation Council, Government of India to promote entrepreneurial initiatives and activities among the student community, faculty fraternity and young entrepreneurs of various parts of our Nations.
It has been planned to conduct various activities like idea pitching, Startup pitching workshop boot camp, various conference tracks on recent technologies, product expo, panel discussion and keynote speeches during the summit. for idea pitching event the ideas are invited in four different categories from various level of participants like college students, general public, entrepreneurs and school children. They are product idea, Startup idea, Mobile/web app idea and General idea.
The hardcopy brochure of the programme has been sent to 350 Institutions and schools all over India. Moreover softcopy of the brochure of the event is uploaded in MEITY website, Start-up India website and sent to various institutions of our Nation. Also a team of 50 students have been involved to promote the event in various schools and colleges in Thoothukudi, Madurai, Coimbatore, Tirunelveli and Kanyakumari districts.
A press meet has been organized on 04.09.2019 (Wednesday) to publish news about NECSES 2019 in various English and Tamil dailies. Motivation and Organization plan of NECSES 2019 are officially announced by Dr. S. Shanmugavel, Director (NEC) in the meet.
First day, the Start-up Pitch Workshop Boot Camp was organized with more than 200 Participants from all over India. The camp was conducted for Start-up Ideators those who are participated in Idea pitch held on 22.09.2019 in NESCES. The camp was inaugurated by Dr S Shanumugavel, Director, National Engineering College in the august presence of Dr. Kalidasa Murugavel, Principal, Dr. G. Vinoth, Chief Executive Consultant, NEC Business Incubator and Outreach partner Pongu Ventures, and the invited speakers Mr. Valluvan, Vyasaka Technologies, Singapore, Mr. Vidyasagar Ganesh, OHO Academy, Chennai, Mr. Ashish, AVP, Corporate Business, Jigsaw Academy, Bengaluru and Mr. Surjit, Start-Up Club Bangalore.
In the second day of the summit started with registration . More than 857 participants,13 CII members and 140 school students registered for the event. Followed by this the inaugural function of the NECSES 2019 started with welcome address by , Dr. K Manisekar Dr. K. Manisekar, Advisory Head, NEC Business Incubator. Dr. S. Shanmugavel, Director, National Engineering College during the special address informed the gathering about the various efforts taken by the National Engineering College to motivate the students to become an entrepreneur and stressed the need of the event and Dr. K. Kalidasa Murugavel,Principal , National Engineering College spoke about the steps taken by the college for the innovation and product development. Dr. G. Vinoth, Chief Executive Consultant, NEC Business Incubator expressed the activities initiated by the NEC- BI and the need for such a activities in this region. Followed by Dr. Sunil Shukla, Director, EDII, Ahmedabad the chief guest of the function inaugurated the SUMMIT 2019 and appreciated the National Engineering College and NEC BI for organizing a such a big event at rural area of this Tamilnadu and assured to support such an activity in future also. Guest of Honour Dr. Raman Gujral, EDII, Regional Head South Zone, Bengaluru appriciated the efforts taken by the Institution and informed the gathering about the various activities taken by EDI. MR Jeganathan ,Associate Director, EDII, Chennai appriciated the efforts taken by NEC and also informed the gatherings about the various opportunities available in TamilNadu and in India.
Idea pitch competition was conducted in the afternoon session. More than 400 ideas were presented by the ideators at 14 venues. Nearly 42 juries from Corporate, faculty from National engineering college and other reputed institutions were invited to adjudge the ideas to select two best ideas from the each venue. After that, on 22.09.2019, 9.00 am to 2.30pm a closed door presentation was conducted to select ideas in different categories with 10 juries from different field.Third day, Panel discussion on student start-ups - Current trends and challenges was held. The following experts were participated in the program Mr. Dipan Kumar Sahu, Executive Consultant, MHRD Innovation Cell, GoI, Mr. Senthil, South Zone Regional Head, NASSCOM, Tamil Nadu, Mr. Rajendra Mootha, COO, IITM Research Park, Chennai, Mr. Ramachandran Gopalakrishnan, Director, Keirestu Forum, Mumbai, Mr. Balram Nair, Vice President, The Chennai Angels,Chennai, Mr.Jeganathan, Associate Director,EDII, Chennai participated in the panel discussion. Mr G Vinoth, Outreach Partner Pongu Venture and Chief executive consultant of NEC Business Incubator acted as moderator.